~ beatles ~*~ barbershop ~*~ blog ~*~ cats ~*~ friends ~*~ gromit ~*~ hanson ~*~ home ~*~ indigo ~*~ kith ~*~ music ~*~ now ~*~ silly ~*~ writings ~


---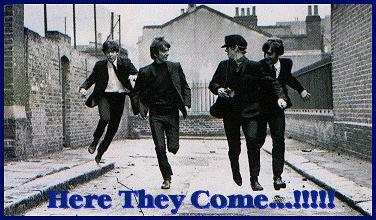 The Beatles

Anyone who knows me even just a bit will tell you that the Beatles are my all-time favorite group EVER! (By the by, you gotta go see A Hard Day's Night in theatres--here's the official Miramax website!) I've tried to do them justice with my on-line tribute to them...here goes!

Paperback Writer--Here's my small directory of stuff I've written about the Beatles. I did a paper in college on Sgt. Pepper and a review of the Sir George lecture on that album, plus you can read my first Beatles fan fiction, Lovers and Friends.
Fan Fiction--My mini-guide to the best in Beatles Fan Fiction, including directories and individual stories.
Links--Click here for a lot of Beatle-related links.
Webrings--I finally joined enough webrings that I needed to put them on a separate page!
Pictures--I've started to put some pictures of the Beatles up on my website. I will pledge right now to only put the best pictures up here, high-quality and all that.
Lyrics--All the lyrics to their studio albums, plus Past Masters. I hope to get BBC up sometime. And LOOKY! I actually have some song facts up, for Please Please Me. I'm doing the albums in order, so it may take a bit...keep checking back, though!
"Hey, who's that little old man?"--I couldn't resist putting up the script from one of my favorite movie scenes!
Rock & Roll Hall of Fame speech--This is the speech that Paul made for John's induction into the Hall as a solo artist.
That Thing You Do!--Yup, the awesome movie that Tom Hanks made his directorial debut with. Here I have a list of similarities between the Beatles and the Wonders. And do yourself a favor--see the movie, it's great, even if you don't like the Beatles!
Awards I've won--Can you believe people actually like this place? And I didn't even have to pay them!
Apply for my Award!--Yep, I have an award to give out; go ahead and apply for it!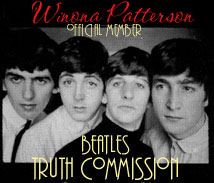 ---
Copyright ©1999-2006 Winona Patterson.