RRRRRRRingo!
Well, here she is! Isn't she adorable? Her name is Ringo Sebastian Patterson. I know, she's a female with two male names--well, deal with it! I named her before I knew she was a she...anyway, she's Ringo because I really like the Beatles (duh), and Sebastian is in memory of Sebastian Sheetz, an awesome gray cat who belonged to my college roommate (who also took some of these pictures! Thanks, Sammy!).
Let me tell y'all how we acquired our kitten... a couple weeks before we were to move out of our apartment, we discovered that a mother cat was hiding her five kittens underneath our patio. After a week or so of feeding them and watching them play, I just told my husband that I had to have one of them. There were three black and white ones and two black ones. Since I had previously owned a black cat (Midnight, who's now almost 16 and lives with my mother in Granite City, IL), my awesome hubby picked up one of the black ones for me. She was just 6 weeks old then (the vet said so), estimating her birthday at April 8th, 1999. She was just larger than a Beanie Baby when we got her, so tiny and so cute! The picture at the top was taken when we were moving over Memorial Day weekend 1999. As any cat owner can attest, cats like and do wierd things...this one loves tomatoes, pens, nail files, green dish scrubbies, and cotton balls. Believe it or not, she occasionally does play with her own toys, too. :-)
Here's some more pictures of Ringo--I have some "adult" pictures of her by herself somewhere...when I find 'em, I'll put them up here!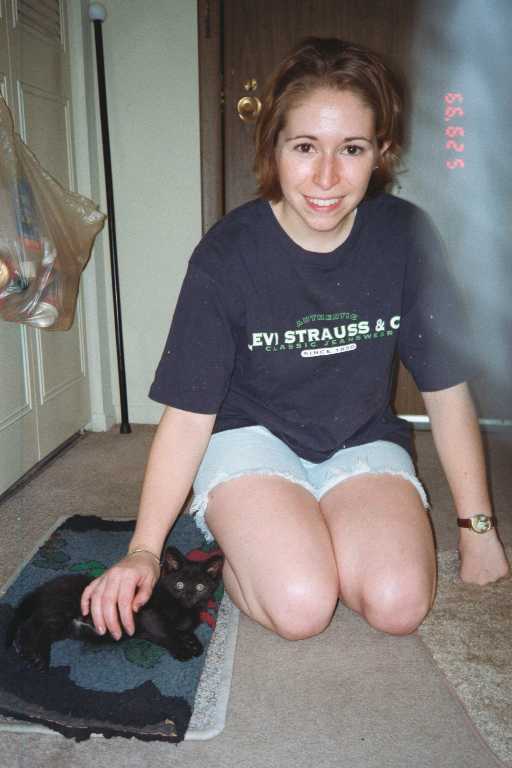 This one was taken the weekend we moved, so that explains my icky appearance!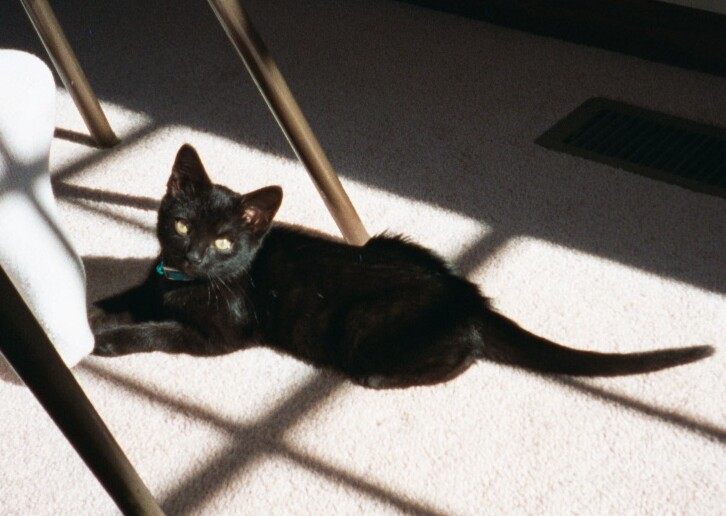 In this one, you can see Adam's foot in the picture; she's kinda under the dining room table--she likes to sit in the sunny spots!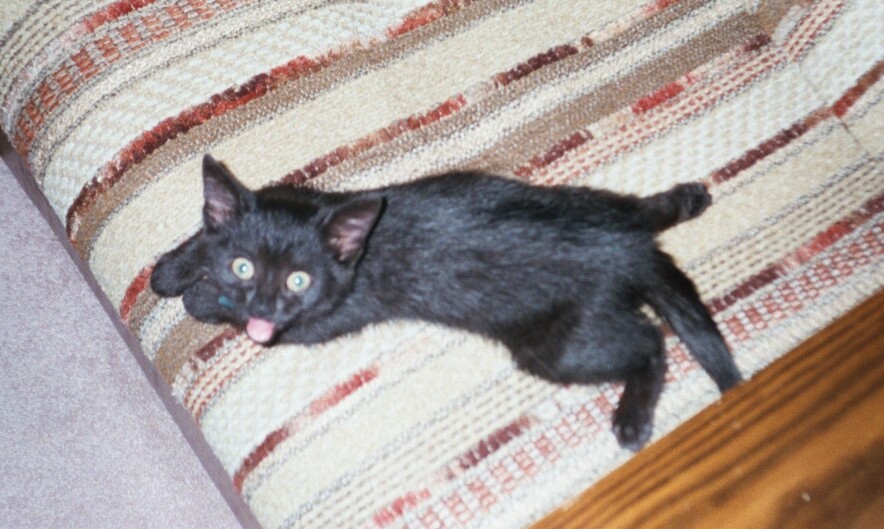 Here's Ringo at her sassiest! I was actually taking a picture from overhead of her weird way to lay down (with the legs out in the back; my dad's dog used to do that, too), and when I took the picture, she meowed, so that's why she looks sassy!


Who else would?! :-)
Click above to find out how to get your own site protector!