~ beatles ~*~ barbershop ~*~ blog ~*~ cats ~*~ friends ~*~ gromit ~*~ hanson ~*~ home ~*~ indigo ~*~ kith ~*~ music ~*~ now ~*~ silly ~*~ writings ~


---
Lovers and Friends
Chapter Twenty-two
The next day we were in a train going down to Washington, D.C. A lot of the press was on the train with us, along with the camera crew, Murray the K, and various other people who just happened to be on the train that day. The guys graciously signed autographs and posed for pictures.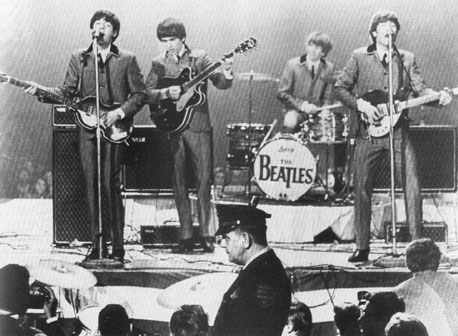 Their concert in Washington the following night was in the round. They would sing a song, then turn 90 degrees, then sing another song, then turn 90 degrees. Ringo's drum kit was on a round platform that they could turn, and of course it kept getting stuck! There were no seats to be had, so Anne and I watched the show from backstage.
That night, Anne and I stayed in the hotel room playing cards while the Beatles and Brian visited the British Embassy. They had a very bad time of it. All the dignitaries who were there were behaving worse than the screaming teenage girls had been! Some people insulted them, and one woman even snipped off a lock of Ringo's hair. I felt so bad for them; they really were beginning to feel like caged animals.
The next day we rode the train back up to New York for two performances at Carnegie Hall. Both of us being in music in college, Anne and I were insanely jealous that they were going to be able to perform there; Carnegie Hall was a dream for both of us! Both performances were sold out. Since we didn't want to deny anyone the chance to see the Beatles live, Anne and I opted to watch the show from backstage. Before the show, George took our pictures on the stage of Carnegie Hall. There had happened to be a piano on stage, so Anne sat down and pretended she was playing for me, while I stood by the piano and sang as if I was giving a recital. The pictures turned out nice; we all got a laugh out of them.
***
We all flew the next day down to Miami. The Beatles had another appearance to do for Ed Sullivan, and he happened to be broadcasting from Miami that week, from the Deauville Hotel. Right after we got into Miami, Anne and I had barely set our suitcases down when we decided we needed to go shopping for new swimsuits. We ran into the suite and found Brian and told him of our plans. He called down to the hotel desk immediately and arranged for transportation for us. By the time we made it down to the lobby, there was a taxi waiting for us. We hopped in and Anne enthusiastically said, "Take us shopping!"
He dropped us off at a nice area with plenty of shopping, including a JC Penney and a Sears, both of which we were familiar with. We really hadn't heard of the other stores, we assumed they were some sort of boutiques. The driver told us he'd be back in three hours, and to meet back there.
We went into every store that carried swimsuits--and in Miami that's a lot! Anne found a light blue bikini that she looked great in, but she looked good in about everything, so that wasn't a surprise. I found a pink and white gingham bikini. I was nervous to try it on; I had always worn one-piece swimsuits before. But I figured what the hell, right? I tried it on and actually, it didn't look too bad on me. Anne said that I was a knockout, whatever that meant.
The day after we arrived was Valentine's Day. Anne was particularly lonely, being away from Dave on that day. She called him on the phone, and they talked for quite a while. He had even sent her a dozen red roses to the hotel! I wanted to give her some privacy, so while she was on the phone, I went into the suite we were sharing. Paul and George were getting ready to leave to rehearse. George asked, "You look bored, wanna tag along?"
I got to watch them rehearse in the hotel, in a huge ballroom. People were busy setting up the seats and the lights while the Beatles rehearsed. They practiced the songs they were to perform on the show--"She Loves You", "This Boy", "All My Loving", "I Saw Her Standing There", "From Me To You", and "I Want To Hold Your Hand".
After the rehearsal, I joined Neil for a drink in the hotel bar. I just needed a drink, I guess--it being Valentine's Day and all, I guess I was a little lonely. We chatted about how hectic things had been, and he told me a little more about the incidents at the British Embassy. I asked him, "How can you handle all this?"
He shrugged. "To tell you the truth, I really don't know!" He laughed, then continued. "Um, really I don't know how I've gotten through this...but we all just stick together, through all the craziness, through thick and thin, till death do us part."
I raised my eyebrows. "Really? You know, I guess it could be interpreted like a marriage of sorts. Y'all certainly do stick together."
"What did you say?"
"I said that you stick together."
"No, not quite, you said 'y'all' before."
"So?"
He laughed. "Oh, it's not a big deal, I just wanted to bug you about your accent."
"Excuse me, my accent? At least I'm in the right country here! You certainly sound like you're not from these parts!" I could tell this was going to escalate into something silly, and I needed to defend my ground.
"At least I sound refined and not like a...a...um..." He couldn't find the right term.
"A Scarlett O'Hara type, stirring up trouble everywhere she goes, fiddle-dee-dee and all that?" Neil nodded. I rolled my eyes, stood up, cleared my throat, picked up a napkin to resemble a handkerchief, and said in my best Scarlett voice, "Well, Neil Aspinall, if you wanna go teasin' a poor girl like me about the way I talk, well...well..."
"Well what, Miss Scarlett?" Neil asked expectantly.
Usually I could be pretty witty, but at that moment I couldn't think of a damn thing to say. I plopped back down in my chair and folded my arms. "Well, fiddle-dee-dee!" I said in frustration as I threw my "handkerchief" on the table.
That made Neil laugh quite loudly. "Alright, we'd better get this Southern Belle upstairs, seems like you've had too much to drink. Come 'ead." We paid the bill and went back upstairs.
As Neil went into his room, I saw Paul down the hall. I called down to him and he walked over to me. He asked, "So, where'd you disappear to after the rehearsal? I was looking for you."
"Oh, Neil and I just had a drink. And thanks for letting me watch you guys rehearse. I keep hearing the same songs over and over, but still...it's just great, it really is." I smiled at him.
"Well, thanks for the compliment. I'm a little nervous about it, but after last week's went so well, I guess we actually can do it!"
"I never had a doubt you could," I added.
I started into my room, but Paul stopped me. "Um...I don't suppose you're doing anything tonight?"
"Hmmm, let's see...it's Valentine's Day, I'm hopelessly single...um, nope, don't think I have anything planned. Why, what are you cooking up?"
"Nothing, I just thought you might like a little company, that's all."
"What are the others doing?"
"The others have already called their women, before it got too late over there. Last night, Neil, Brian and I decided on having dinner together, a sort of anti-Valentine's Day dinner, I suppose, for those of us without anyone special. Care to join us?"
"Sure, why not? I guess I can join your lonely-hearts club for tonight. Will it be safe, though?"
"I think so, we're going to a nice fancy place, and I highly doubt there will be any screaming teenage girls there, so I'm sure we'll be fine. If not, Nell can protect us!"
"Alright, I'm game. What time?"
"We'll pick you up about 6:40, our reservations are for seven...oh, and dress nicely, we're going to a really fancy restaurant, I think they even have dancing there, too." He smiled at me, and I walked into my room.
I headed right for the rack with my dresses on it. The only things I had that were "nice" were the infamous red dress and the green one I had bought in New York. I didn't know if either one of those was nice enough for a dinner out, so I grabbed both of them and went to Brian's room. He answered the door, and I walked in with dresses in hand. "Brian, Neil invited me to go along tonight for dinner, if that's alright with you."
"You know it is, Jill. I've hardly been able to spend time with you on this trip."
"Thanks...anyway, will either one of these do for tonight?" I held the dresses out to him.
"Hmmm..." He examined the dresses and felt the fabric. He shook his head, pursed his lips and said, "I'm afraid neither of these will be suitable."
I panicked on the inside. "Dammit, I guess I can't go then. This is all I have for 'nice' evening wear, and I spent the last of my extra cash on a new swimsuit. Oh well, thanks anyway." I turned to go back to my room.
Brian stopped me with, "Jill, don't leave, I think we can arrange something here." He got on the telephone and spoke with someone about shopping for ladies' dresses. I came back in and sat on a chair, my dresses in my lap. He scribbled something down on some paper, and hung up the phone. "Let's put these back in your room. There's a taxicab waiting for us downstairs."
I protested. "Brian, what are you doing?"
"I'm taking you shopping. The gentlemen at this affair this evening will be in tuxedos, so you will need something appropriate as well."
I shook my head. "Brian, I agreed to go to dinner with you guys before I knew about the dress code. You don't have to go through the trouble, I just won't go."
He was firm. "I won't have you not going, Jill. Let me get you something nice, something elegant."
We went to a very nice boutique. I knew that a small-town Midwestern girl didn't belong there. I just took the view that I was a little girl playing dress-up; I had always loved doing that when I was younger. I tried on several dresses that I didn't want to know the price of. All of them looked nice on me, but the one I selected was a long black dress that wasn't obscenely tight, but it certainly hugged my figure. It also had a slit up the front of the right leg and a high neckline with some black shimmery beadwork. It looked very similar to the long black dress Audrey Hepburn wore as Holly Golightly in Breakfast at Tiffany's. I even got a pair of long black gloves to wear with the dress, just like Holly had! I had brought a nice pair of pearl and rhinestone earrings on the trip that would go nicely with the dress, so I thankfully didn't need to find jewelry. I thanked Brian for his generosity; he certainly had already done enough for me, and him buying a really nice dress for me was above and beyond anything I had ever expected.
We got back to the hotel with plenty of time to change for dinner. As I got ready, I realized that I was absolutely starving! I was glad I wasn't mingling with the elite all the time; I really couldn't get used to this late dinner thing. I played with my hair and managed to get it pulled back with some nice hair clips I had bought in Washington. Once I had applied my makeup, put on the dress, and added the earrings and gloves...I looked at myself in the mirror, and I almost couldn't recognize the girl there. Well, it wasn't a girl anymore...I was looking at the reflection of a woman...a very elegant-looking woman. It wasn't a girl playing dress-up anymore. Yeah, I had grown up. I made a mental note to try to get a picture of how I looked that night. I noticed the time, and I knew that the guys would be coming to get me soon. I quickly transferred the contents of my purse into my black evening clutch purse and double-checked my makeup.
Brian arrived a little early to escort me to the limo. Ever the gentleman, he offered his arm to me as we walked down the hall. I saw Neil and Paul waiting for us by the elevator. Who needs a man on Valentine's Day when three dapper young men can escort you to a fancy restaurant? All three of them were wearing tuxedos, but I would have to say that Paul looked the best--my very biased opinion, I suppose! As we walked down the hall, Paul whispered to me, "I think that's replaced the red dress as my favorite."
We ate at a restaurant that I couldn't even pronounce the name of. All I know is that it was very French and very fancy. I felt totally out of place there, but Neil and Paul looked a bit uncomfortable as well, so I wasn't alone. We had a bottle of champagne delivered to the table and our glasses were filled. "I'd like to propose a toast," Brian announced. I'm glad that he didn't stand up and draw attention to us, although we were getting a couple gee-that-one-guy-sure-looks-familiar looks from some of the other tables. Brian continued, "To the success in all our lives, and the joy that we have brought each other by our friendship." He smiled and raised his glass. We all clinked glasses together. I loved the sound the glasses made when they hit; the tone was very sweet and rang out beautifully.
After dinner, there was a small band playing, mostly jazz standards and some showtunes--right up my alley! I danced with Neil, Paul, and Brian, along with a couple other young gentlemen. Brian kept trying to talk me into singing with the band, but I refused. After what we'd been through the past ten or so days, I was enjoying my anonymity. It was a very nice evening. I felt like I had no worries in life that night. I did regard it as a kinda "dress-up" evening. I certainly wasn't the glamorous type, one who rubbed elbows with high society on a regular basis. I was more of a casual, laid-back person. I felt out of place, but as long as I kept the attitude that this was a dress-up, one-time affair...well, it was absolutely great! I felt like Cinderella at the ball.
***
Their performance that Sunday evening was again a huge success. I wondered if they had transplanted the exact same audience from the New York show, because they sounded exactly the same, screaming from the very first chord until well after they had finished the last song. Everyone on the trip was treated like royalty, especially in Miami. There were private beach parties at very wealthy peoples' houses, and several people lent us their yachts, no questions asked (like could any of us actually drive one). Everyone was taking a lot of pictures--not just me, for once. Each of us were given nice, new Pentax cameras, and I figured at least I had good subjects to practice taking pictures with my new camera! It was amazing, what people would give us without blinking an eye. It wasn't even like that in England, at least to this extent. I'll admit it was quite nice, but at the same time, I felt a little out-of-place. Playing dress-up was one thing, but being handed everything on a silver platter was, for me at least, a little unsettling.
---
On to Chapter Twenty-Three
Back to Chapter Twenty-One
---
Copyright © 1999-2006, Winona Patterson.