~ beatles ~*~ barbershop ~*~ blog ~*~ cats ~*~ friends ~*~ gromit ~*~ hanson ~*~ home ~*~ indigo ~*~ kith ~*~ music ~*~ now ~*~ silent ~*~ silly ~*~ writings ~


---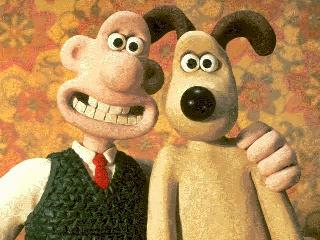 Wallace & Gromit are a claymation duo created by Nick Park at Aardman Animations in Britain (the same people behind the recent movie Chicken Run. You can catch their three short films on PBS sometimes, and you can get their first three adventures on video and DVD.

Wallace and Gromit's first feature-length film! The Curse of the Were-Rabbit, won the Academy Award for Best Animated Feature! It's out on DVD now, and you MUST SEE IT!
Here's some more links to Wallace & Gromit stuff!
The Wallace & Gromit Homepage--this was the first W&G page I found, while I was still in college...it didn't look quite this nice at that time, though, but I was still glad to see W&G content out there!
The Cracking Wallace & Gromit Webpage
The Wallace & Gromit Appreciation Page
Stephen's Wallace & Gromit Page
---
Copyright ©1999-2006 Winona Patterson.